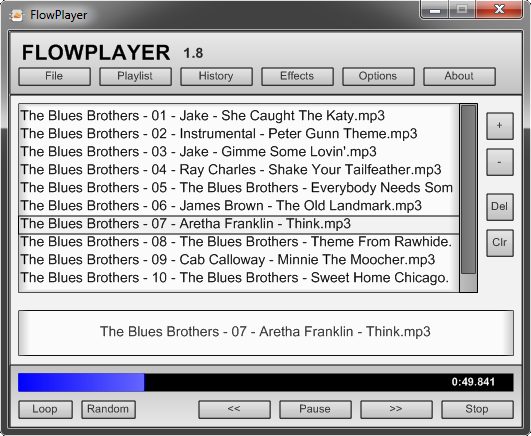 Easy to use
Play .mp3 and .wav files and make playlists very easy.
Multi DSP effects
Manage up to 8 DSP effects (out of a total of 15) simultaneously.
Totally free
Distributed free of charge without advertising or limitation inside.
INTRODUCTION
FlowPlayer is a music player with a playlist system (with backup possibility in txt file) and a powerful effects rack that can chain up to 8 DSP audio effects and analysis tools (out of 15) in real time.
Available effects are:

3 Bands Equalizer
15 Bands Equalizer
Chorus
Delay
Distorsion
FFT Display
Flanger
Filter
Graphic Equalizer
LFO Filter
Low-Fi
Noise-Gate
Phaser
Pitch Shifter
Reverb
This is a program started in 2012 by Christophe Leblanc using Flowstone from DSP Robotics. It is distributed for free.
This software is only available on Windows operating systems.
HOW TO USE
Installation:
FlowPlayer is a "portable" software that requires no installation. It can be dropped into any directory. However, to be able to benefit from a better support of the MP3 format, it requires the use of the small program "mpg123.exe" (supplied with). "mpg123.exe" is intended to be in the same directory as FlowPlayer by default, but this option can be changed (if necessary) in the software option panel. For convenience, you can drop the FlowPlayer folder into an installation folder and call FlowPlayer using a shortcut.
NEXT DEVELOPMENTS
FlowPlayer should benefit from the next evolution in the coming months:

New DSP effects and analysis racks (scope, spectrum, etc ...).
Possibility to interchange the DSP racks without removing them.
More options and backup possibility.
Better integration with the operating system.
A VST plugin version (at least for rack system and effects).
Multi-effects presets.
An easy skin / personalization system.
One or more audio inputs with mixer.
Management of streaming or integration with streaming softwares.
2D / 3D sound visualization effects.

If you think that all these evolutions, or others, are useful, consider contributing to the financing of this software!